Welcome to Molecular Medical Biochemistry Lab!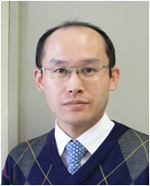 Our main research purpose is to discover the unidentified molecular mechanisms of pathogenesis in the field of cancer and cardiovascular diseases. Because cancer and cardiovascular diseases are major life-threatening diseases in developed countries including Japan, we should make great efforts to find a key to further improve and newly develop the therapies against these diseases.
To achieve the above purpose, we focus on the investigation of the mechanisms of cancer invasion and metastasis, and atherosclerosis from the aspects of cell-to-cell communications between different types of cells. For example, we are interested in the direct interaction between cancer cells and the surrounding stromal cells in the microenvironment and between monocytes and vascular endothelial cells at the initiation of atherosclerotic lesion formation. We utilize the recent and modern techniques and knowledge in biochemistry, cell biology and genetics for the investigation. All the equipments necessary for our research have already been set in our lab or our university, so that we can easily access these equipments to effectively perform experiments.
We also make genetic analyses for some congenital hereditary diseases, such as color-vision deficiency and fetal idiopathic ventricular arrhythmia using the cutting-edge technology of next generation sequencer. On the other hand, conventional biochemical analyses including protein purification are routinely conducted. Several interesting proteins have been identified and purified from plasma, liver and kidney of mammals, and are currently examined in their physiological functions and pathological implications.
Members
| | |
| --- | --- |
| Professor | Hisakazu Ogita, M.D., Ph.D. |
| Associate Professor | Akira Sato, Ph.D. |
| Visiting Associate Professor | Hisao Ueyama, M.D., Ph.D. |
| Visiting Associate Professor | Dimitar P. Zankov, M.D., Ph.D. |
| Visiting Associate Professor | Xiaoling Pang, M.D., Ph.D. |
| Senior Assistant Professor | Akio Shimizu, Ph.D. |
| Assistant Professor (Dept. of Ophtalmology) | Maki Iwasa, M.D., Ph.D. |
| Special Contract Assistant Professor | Masahiro Komeno, Ph.D. |
| Graduate Student (MEXT scholarship program) | Md Rasel Molla, M.S. |
| Graduate Student (MEXT scholarship program) | Joanne Soh Ern Chi, M.S. |
| Graduate Student | Nguyen Le Kim Chi, M.D. |
| Graduate Student | Mahbubur Rahman Khan, M.S. |
| Undergraduate Student | Nao Kokami |
| Undergraduate Student | Yuta Yamaguchi |